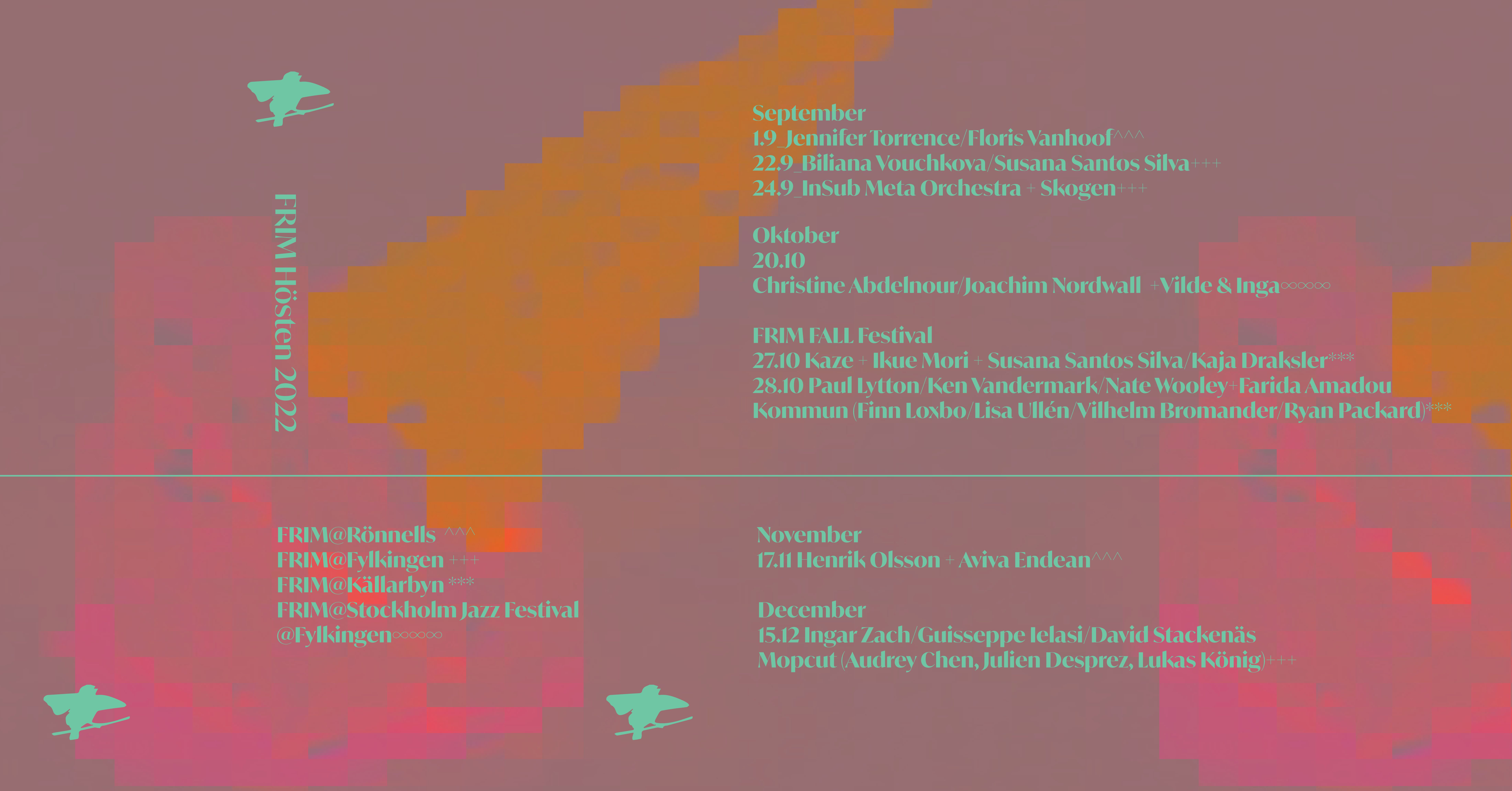 FRIM på Fylkingen #39
Biliana Voutchkova + Susana Santos Silva
Biliana Voutchkova - violin, mini speakers
Susana Santos Silva - trumpetTwo solos and a duo.

Sept 22
Fylkingen
Torkel Knutssons gata 2
Stockholm
Tickets: 100/80 kr
Doors: 19:30, 1st set: 20:00
Welcome to the second FRIM concert of the season! The artists will present their latest solo work and a duo set celebrating their recent album release BAGRA.
https://bilianavoutchkova.bandcamp.com/album/bagra
Biliana Voutchkova is a dynamic and thoroughly engaged interdisciplinary artist, composer-performer, violinist, improvisor and curator with a truly personal, unconventional artistic language. Through the prism of listening, her early training as a classical violinist and the years of development as contemporary artist-performer, she explores states of spontaneity and intuitive resonance embodied in her multifaceted activities. Her work includes regular concert performances of original/site specific work, new music by contemporary composers often written for her, long durational and multidisciplinary performances, improvisations, compositions and installations with focus on the interconnection between inner world and sound space.
Based between Berlin and her rural residency on the black sea coast of Bulgaria, Biliana works internationally as a soloist and with renowned ensembles such as the Splitter and Trickster Orchestras, United Berlin, Solistenensemble Kaleidoskop, Voutchkova/Thieke duo, Jane in Ether etc. Among her recent/current activities are concerts at Cafe Oto London, Ausland Berlin, Mixtur, Skanu Mežs, Meakusma and Ad Libitum festivals, her first institutional solo exhibition-performance at One Gallery Sofia and her curated duo series of live concerts and digital albums DUOS2022. Biliana is the founder and curator of the DARA String Festival, SHAPE+ platform artist for 2022/2023 and a recent recipient of the German Residency Stipend at Cité des Arts/Paris where she will reside for six months from October 2022.
http://www.bilianavoutchkova.net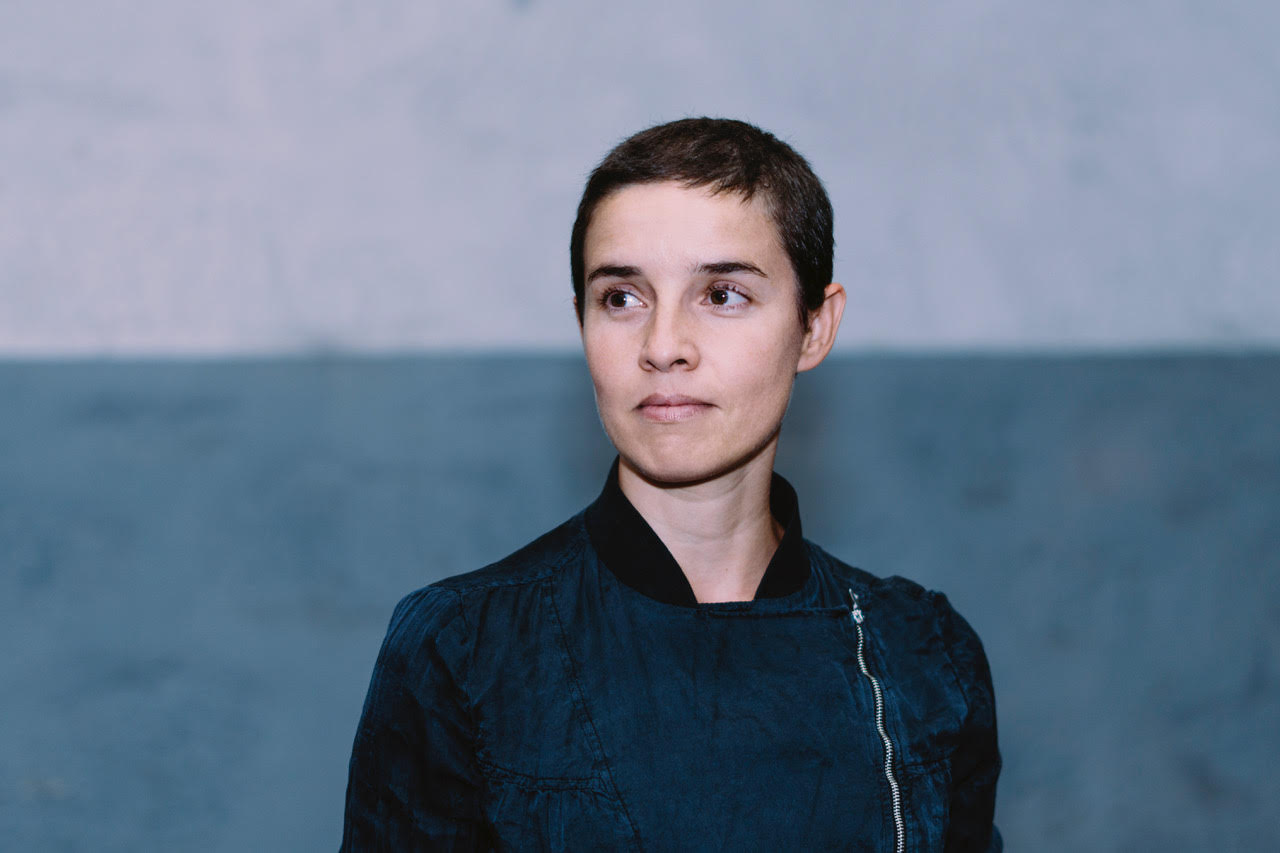 Susana Santos Silva (photo by Joana Linda) is a Portuguese trumpeter, improviser and composer based in Stockholm, Sweden.
With a singular artistic approach that comes out of a comprehensive spectrum of influences, from classical and contemporary music to jazz and textural sound art, she is interested in stretching the possibilities of the instrument, exploring new ways of expression within music, as well as dissolving the boundaries between composition and improvisation. 'One of the most exciting improvisers in the world' (Downbeat), her music has been described as intoxicating, intense, beautiful, overwhelming, mesmerising, innovative, bold and creative.
Besides her solo practice, she has been working with her bands Impermanence and Life and Other Transient Storms and with collaborative projects with Kaja Draksler and Torbjörn Zetterberg – also in trio with Hampus Lindwall, Child of Illusion, Fish Wool and Hearth.
Much in demand she has been playing with an array of different bands/projects and with musicians such as Anthony Braxton, Fred Frith, Evan Parker, Joëlle Léandre, Mat Maneri, Paul Lovens, Hamid Drake, Mats Gustafsson, Lotter Anker, Sten Sandell, among many others.
Susana is now attending a Master program in Electroacoustic Composition at the Royal College of Music in Stockholm.
https://susanasantossilva.com
FRIM på Rönnells #2 Jennifer
Torrence
+
Floris Vanhoof
Sept 1
Rönnells Antikvariat
Birger Jarlsgatan 32
Stockholm
Tickets: 100/80 kr
Doors: 18:30, 1st set: 19:00
Facebook Event
Jennifer Torrence - Synthesizers, samples, feedback, noise, percussion
Jennifer Torrence is an Oslo-based percussionist, performer, artistic researcher, curator, teacher. Her practice explores themes such as the body, noise, precariousness, queerness, and collective making. She has performed in diverse settings in twenty-four countries across four continents. In addition to solo projects she is a member of Pinquins. She is an artistic researcher and (from Autumn 2022) Associate Professor II at the Norwegian Academy of Music.
She will perform a solo-in-progress made by/with Øyvind Torvund. Synthesizers, samples, feedback, noise, percussion. Tonight's version is a solo version of a larger work for orchestra and improvising soloist, which will premiere with the Norwegian Radio Orchestra in October.
Floris Vanhoof - Electronics, video projections
Floris Vanhoof (°1982, lives and works in Antwerp, Belgium)
is interested in the hybrid forms of music, visual art, and film.
His first projections -experimental films on 16 millimeter- evolved towards purely visual experiences which questioned our viewing patterns.
Inspired by structural film and early electronic music, he builds installations, creates expanded cinema performances, and releases his music.
Vanhoof makes his own instruments to explore the border between image, light, and sound.
As media-archaeologist, he confronts the digitally-spoiled audience with flickering 16mm films and 35mm slide installations - formats doomed to disappear.
He often chooses analog technology because of the greater transparency of the workflow, and because of its rich dynamic range. Cut loose from all nostalgia, he experiments with what used to be considered "hightech."
Vanhoof searches for new ideas with old media. He translates sound to image and vice-versa by connecting different incompatible media. He is especially curious about the effects his work elicits in the viewer:
How does our perception operate? Which new perspectives appear?
https://florisvanhoof.com/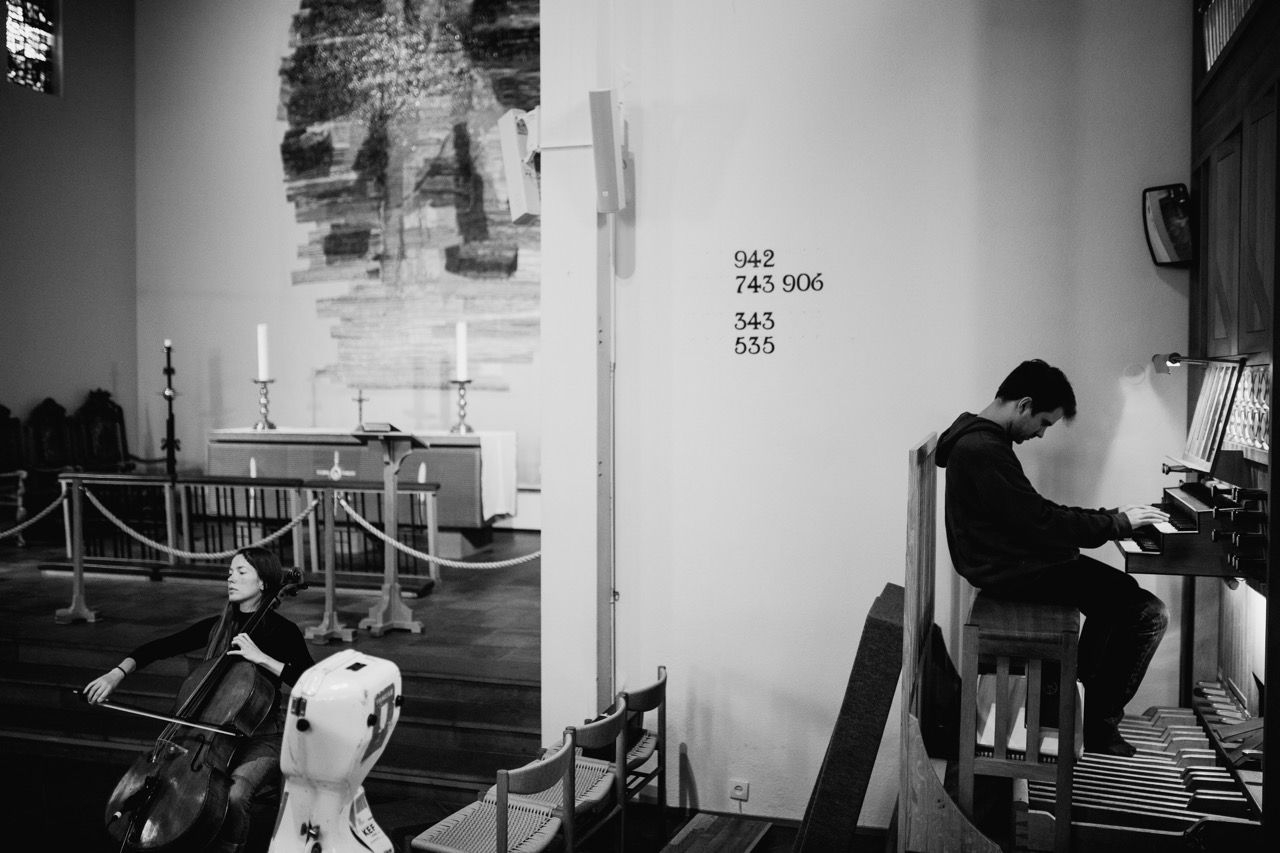 Lucy Railton and Kit Downes

FRIM med SKAIV och Bilda

April 13
Sankt Peters Kyrka
Upplandsgatan 12, Stockholm
Doors from 19.30
Concert 20.00
Tickets
FB-event

A collaboration between FRIM, Skaiv and Bilda.
British musicians Lucy Railton and Kit Downes join forces in a very special collaboration for church organ and cello. Their recent release 'Subaerial' explores the epic sonorous range both instruments possess, mixing modern composition with improvisation. Railton is known as both an interpreter of contemporary music and a member of the European experimental music scene, releasing records on PAN, Modern Love and Shelter Press to name a few, whilst Downes comes from a background in Jazz and composition, with releases on ECM and Edition Records.
Kontakt
If you want to be in the calendar, please write to:
frimcalendar@gmail.com


booking requests & general enquiries:


frim@frim-stockholm.se