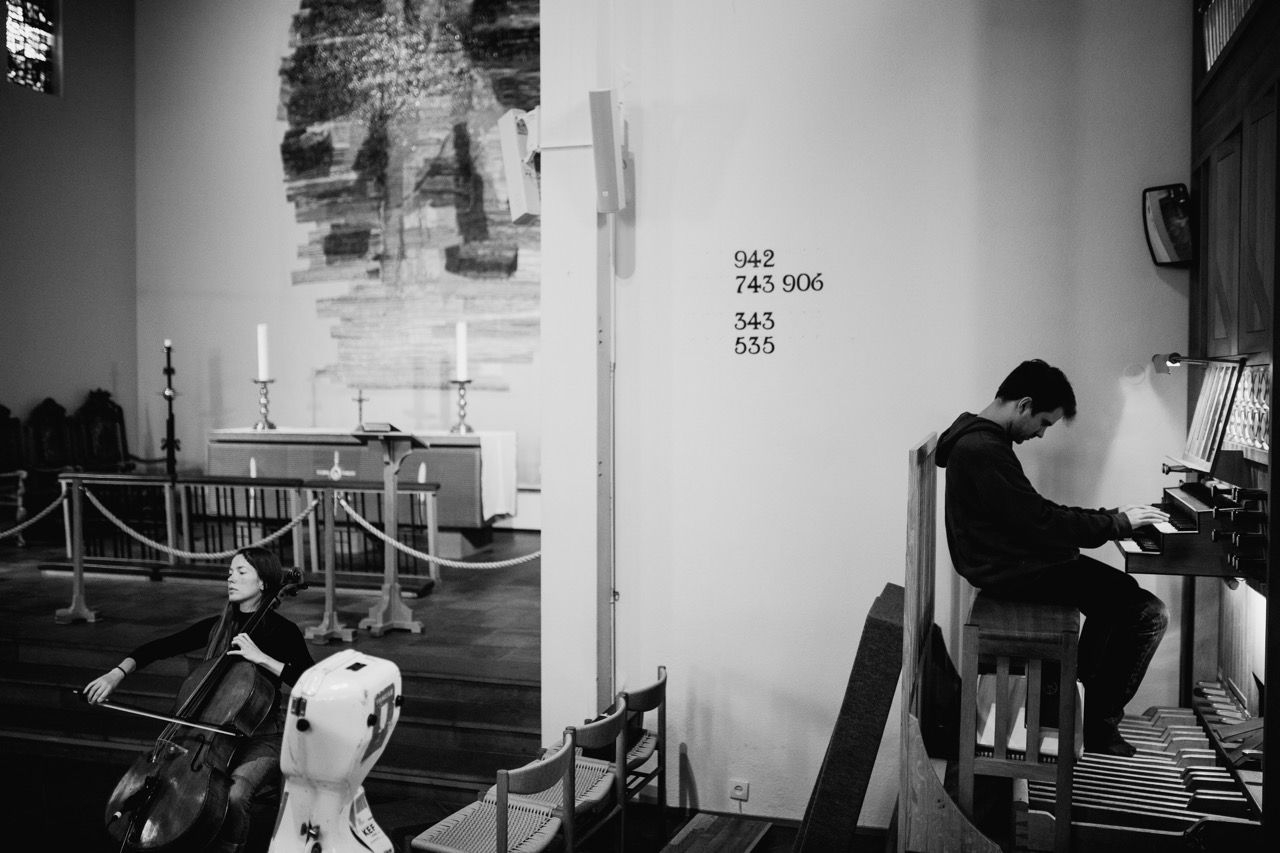 Lucy Railton and Kit Downes

FRIM med SKAIV och Bilda

April 13
Sankt Peters Kyrka
Upplandsgatan 12, Stockholm
Doors from 19.30
Concert 20.00
Tickets
FB-event

A collaboration between FRIM, Skaiv and Bilda.
British musicians Lucy Railton and Kit Downes join forces in a very special collaboration for church organ and cello. Their recent release 'Subaerial' explores the epic sonorous range both instruments possess, mixing modern composition with improvisation. Railton is known as both an interpreter of contemporary music and a member of the European experimental music scene, releasing records on PAN, Modern Love and Shelter Press to name a few, whilst Downes comes from a background in Jazz and composition, with releases on ECM and Edition Records.
FRIM på Fylkingen #37 –Sofia Jernberg & Mette Rasmussen + Tijana Stanković


April 14
@Fylkingen
Torkel Knutssonsgatan 2
Stockholm

Tickets: 100/80 kr
Doors: 19:30. 1st set: 20.00


Tijana Stanković, solo
Sofia Jernberg & Mette Rasmussen, duo

Forkelid/Hielm/Carlsson

Elin Forkelid, saxophone
Gustaf Hielm, electric bass
Erik Carlsson, drums

Finally! FRIMREC1 will have its album release! This burning trio is not to be missed!

Though a dedicated free improviser, Stanković's background in folk and Ethnomusicology puts her in touch with an ancient emotional syntax. Her key tools - violin and vocals - both yearn with an organic and creaking fragility, tied irrevocably to old cultures.Her solo album "Freezer" was published in 2020 for the Slovakian record label LOM.

The duo of Sofia Jernberg and Mette Rasmussen has been ongoing since 2017.

"a performance of astonishing breadth and variety, which at times seems scarcely believable that it could have come from just two sets of lungs."

- OTOROKU

"blur the lines between saxophone and voice."
-OTOROKU

Listen:

https://www.cafeoto.co.uk/.../mette-rasmussen-sofia.../



Sofia Jernberg
Singer and composer, born in Ethiopia in 1983 and currently based in two cities: Oslo, Norway and Stockholm, Sweden. As a singer she is developing the "instrumental" possibilities of the voice. Sofia's singing vocabulary includes sounds and techniques that often contradict a natural singing style. She has dug deep into split tone singing, pitchless singing and distorted singing.

Mette Rasmussen is a Danish saxophone player based in Trondheim, Norway. She works in the field of improvised music, drawing from a wide range of influences, spanning free jazz to textural soundwork. Rasmussen works on exploring the natural rawness of her instrument - experimenting on what the saxophone is capable of in sound and expression, with and without preparations.

FRIM på Fylkingen #36 – MMMΔ & ALEM //// Thomas Lehn

March 17 Fylkingen
Torkel Knutssonsgatan 2
Stockholm
Tickets: 100/80 kr
Presale tickets
here
Doors: 19:30. 1st set: 20.00
FRIM presents a two-set night with concerts by two international acts, both well-renowned on the scenes for experimental music! First set is with German, legendary synth-wizard and electro-acoustic improviser Thomas Lehn! The second set consists of a rare performance by Athens-based low-end masters MMMΔ, featuring baroque cembalist ALEM. They will present the live version of their recently released album L'âge de l'absolutisme, an idiosyncratic take on landmark late baroque masterpieces, as well as their own repertoire.
MMMΔ are constantly forging their deep monolithic sound, bringing together low frequencies, inter-modulations, dark textures, and distant folk nuances through custom made instruments. On their recent release
L'âge de l'absolutisme
they've teamed up with baroque cembalist ALEM in order to provide an idiosyncratic take on landmark late baroque masterpieces as well as their own repertoire. ΜΜΜΔ's signature massive low end establishes a gargantuan basso continuo for ALEM's keyboard extravaganzas to sit comfortably on.
Baroque music like you've never heard it before.
Thomas Lehn, an important figure among electro-acoustic improvisers, differs from many of his contemporaries in that he often uses the synth as a discrete instrument. Whereas other improvisers tend to intertwine electronics and acoustics, his instrumental voice stands apart in its disciplined yet exceptionally expressive articulation.
Gil Gershman, Signal To Noise
Thomas Lehn gets incredibly various manifestations from his analogue EMS synthesizer, resulting maybe in the most creative synthetist in recent and not so recent years.
Massimo Ricci, touching extremes
Thomas Lehn's ancient analogue synthesizer is an honestly electronic sound source, but he plays it with pianistic animation, a responsive improviser in an ever-shifting, fluid and powerful music.
Stuart Broomer, Coda Magazine
FRIM på Fylkingen #35
Matchess // Forkelid–Carlsson–Hielm
Dörrar 19.30
Första set 20.00Pris 80 (medlem) // 100 (ordinarie)

Kvällen till ära får FRIM & Fylkingen internationellt besök av Matchess – musiker, kompositör, improvisatör och forskare i ljudstudier. Matchess är rykande aktuell med det albumet 'Sonescent' (Drag City), och ikväll framträder hon live i soloformatet, med sinus-vågor, viola, stämgafflar, röst och kassettloopar.Det blir också minst lika rykande frijazznoiseimprofreepunk med sax/bas/trum-trion Elin Forkelid | Gustaf Hielm | Erik Carlsson, en fullständigt makalös konstellation som i december 2021 släppte FRIM Records första fonogram: 'Can't Hide!', vars release vi nu äntligen får fira på riktigt!!!
MatchessWhitney Johnson (b. 1981, Clearfield, Pennsylvania) is an artist who interprets the unknown with sound. She composes, improvises, and collaborates with the viola, as well as the organ, electronics, and vocalization. Her techniques reproduce meaning through a range of historical material processes, including reel-to-reel tape looping, cassette tape sampling, and field recording. Her latest release Sonescent (2022, Drag City) recreates the experience of 10 days of silent Vipassana meditation in Joshua Tree, CA where she heard "the last moments in the life of music." She is currently an Adjunct Assistant Professor of Sound and Liberal Arts at the School of the Art Institute of Chicago and a postdoctoral researcher on sound and technology in the Centre for Gender Research at Uppsala University in Sweden.
Elin Forkelid – Erik Carlsson – Gustaf Hielm
Finally we're celebrating the december 2021 release of the first FRIM Records record in history! Don't miss this live concert with this amazing free-jazz-punk-noise-improv trio consisting of three brilliant, Stockholm-based musicians and improvisors: Elin Forkelid (saxophones), Gustaf Hielm (electric bass) and Erik Carlsson (drums). Music critic Peter Margasak wrote: "It's a free-blowing session marked by visceral friction and tension, a la Mats Gustafsson working with Zu. Saxophonist Elin Forkelid has emerged as a genuine force in Swedish free music, especially through her work in Anna Högberg Attack!, and here she's met head-on by electric bassist Gustaf Hielm, a veteran figure in prog-rock and metal (Mats/Morgan Band, Meshuggah) who toggles between guitar-like leads and detuned rumbles. The secret weapon ends up being drummer Erik Carlsson — known for his new music work with Magnus Granberg as well as post-bop playing in Festen — who deftly bridges those extremes, stoking fury here, cooling things down there".
Kontakt
If you want to be in the calendar, please write to:
frimcalendar@gmail.com


booking requests & general enquiries:


frim@frim-stockholm.se