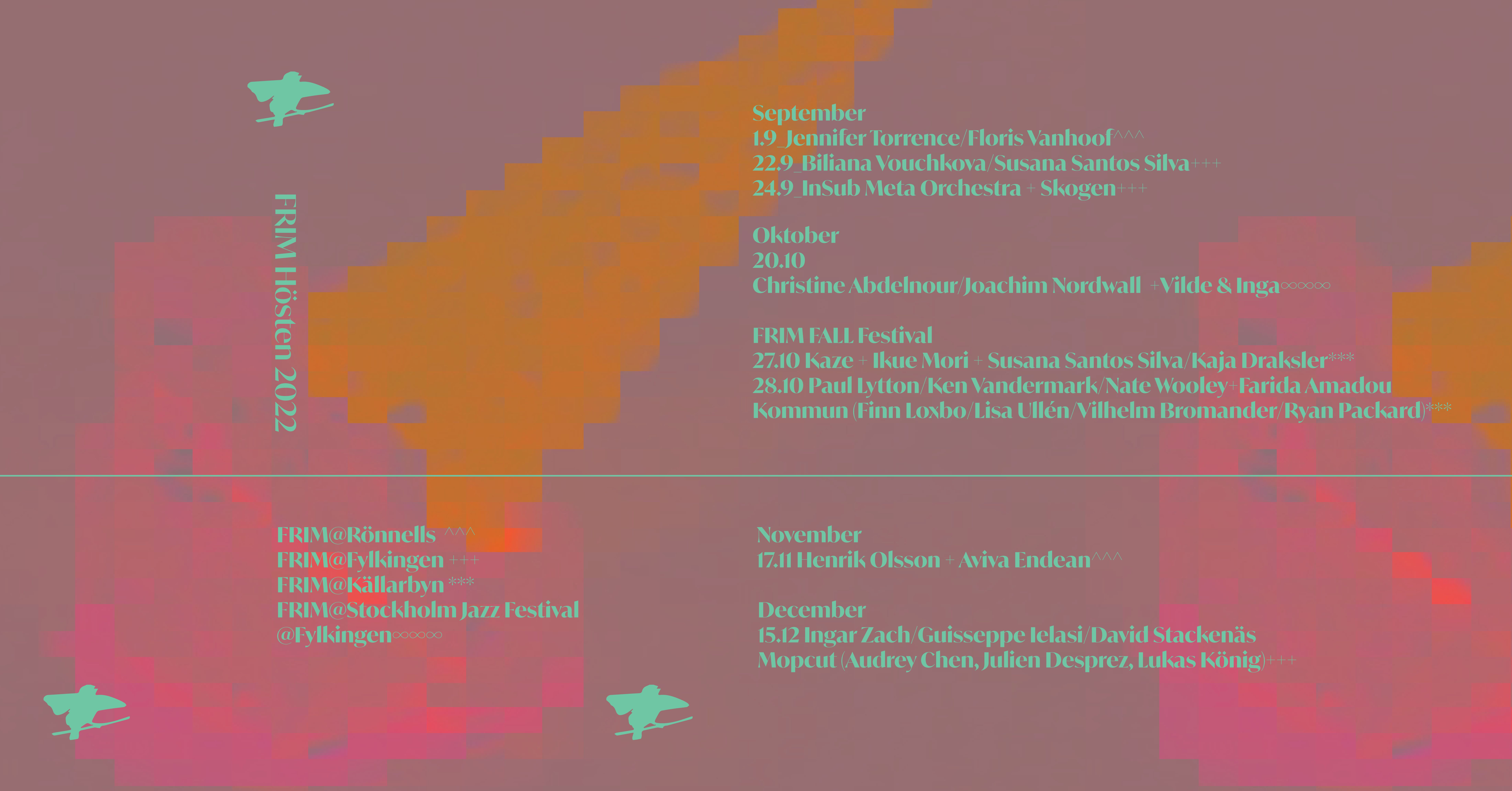 FRIM på Fylkingen #42: LabField + Mopcut


15.12.2022, 20:00
Fylkingen
Torkel Knutssonsgatan 2, 118 25 Stockholm

dörrar öppnas 19:30, konsert 20:00.

LabField:
Ingar Zach - percussion and electronics
Giuseppe Ielasi - guitar and electronics
David Stackenäs - guitar and electronics

Mopcut:
Audrey Chen - vocals, analog electronics
Julien Desprez - guitar
Lukas König - drums, synth




The last FRIM på Fylkingen concert is upon us and it is a delicious treat for your ears. Mopcut and Labfield are composed of musicians with a deep understanding of how to form symbiotic relationships with electronic and acoustic sounds. Visceral at moments and poignantly simple and deliberate at others, each trio will present their own language that is moving electro-acoustic improvisation up and beyond the usual vantage points.

LabField is Ingar Zach (NO), David Stackenäs and Giuseppe Ielasi (IT). Zach and Stackenäs met in 1996 and have been playing in different projects since 1998.

In 2008 they started LabField with their first release Fishforms at Bottrop-Boy. Next release was Collab at Hubro with guest singer Mariam Wallentin. In 2015 Bucket of Songs (also with Wallentin singing on a few tracks) was edited, also by norwegian label Hubro. Ielasi has mixed, edited and mastered the two latter albums and was in the end so involved that we decided to invite him to join the band. Next album with present LabField as a trio.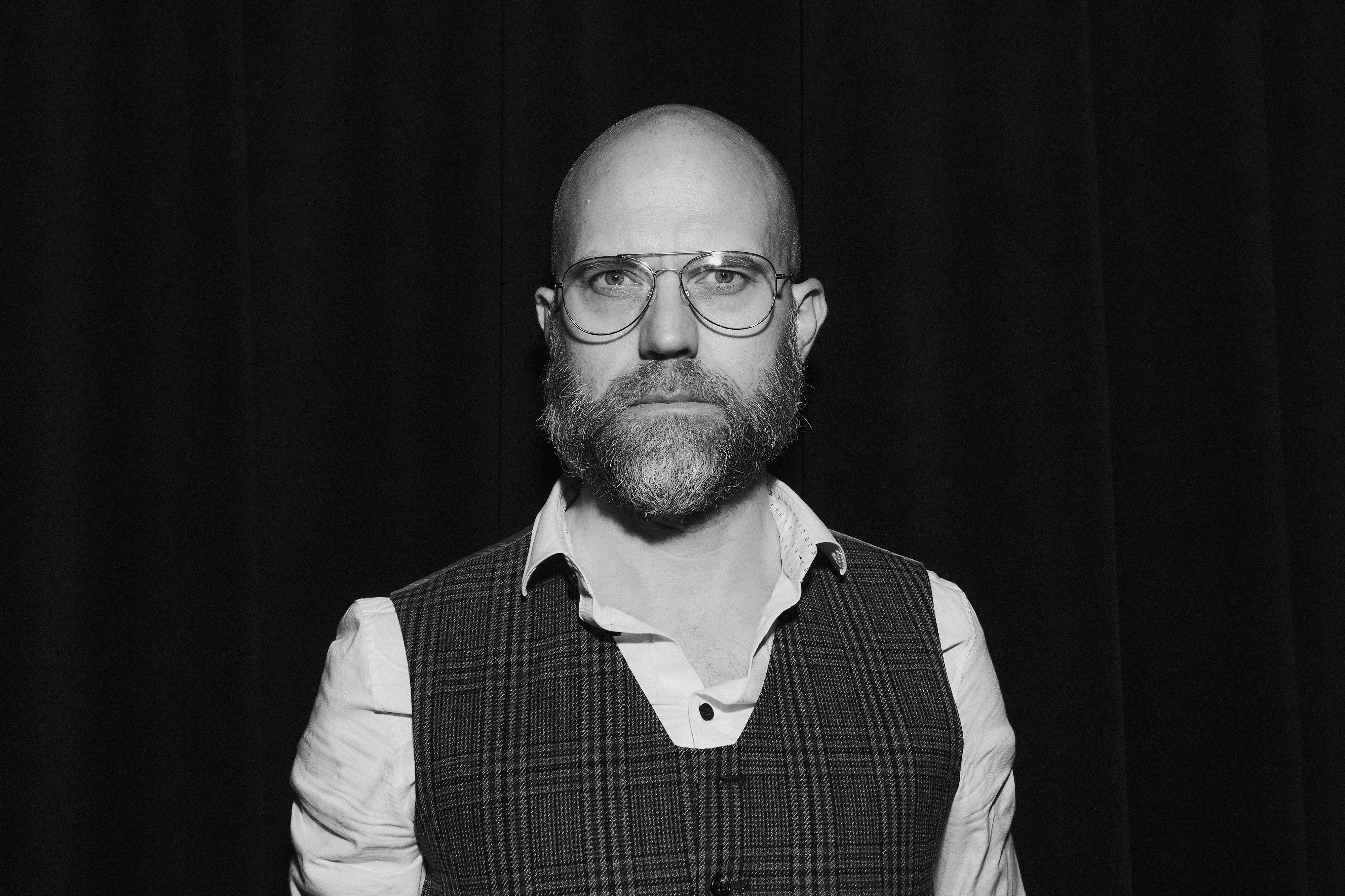 MOPCUT is a medium-length noise-style that covers the head and ears with a vertical bang and a horizontal wave. It's a popular style for all ages, genders and generations.The soundscape should be trimmed evenly all around the circumference so that the noise at the front reaches the inner eye while the waves on the sides cover (or almost fully cover) the ears. The beats at the back maintain the same length as the samples at the front and sides. Once the overall sound is achieved, trimming is used to achieve minimalism or maximalism, depending. Improvisation, noise and electronic beats work well as backgrounds for the MOPCUT. Electronic appliances and devices may be used to give the MOPCUT a bit more volume, but effects may lead to standing up instead of hanging low.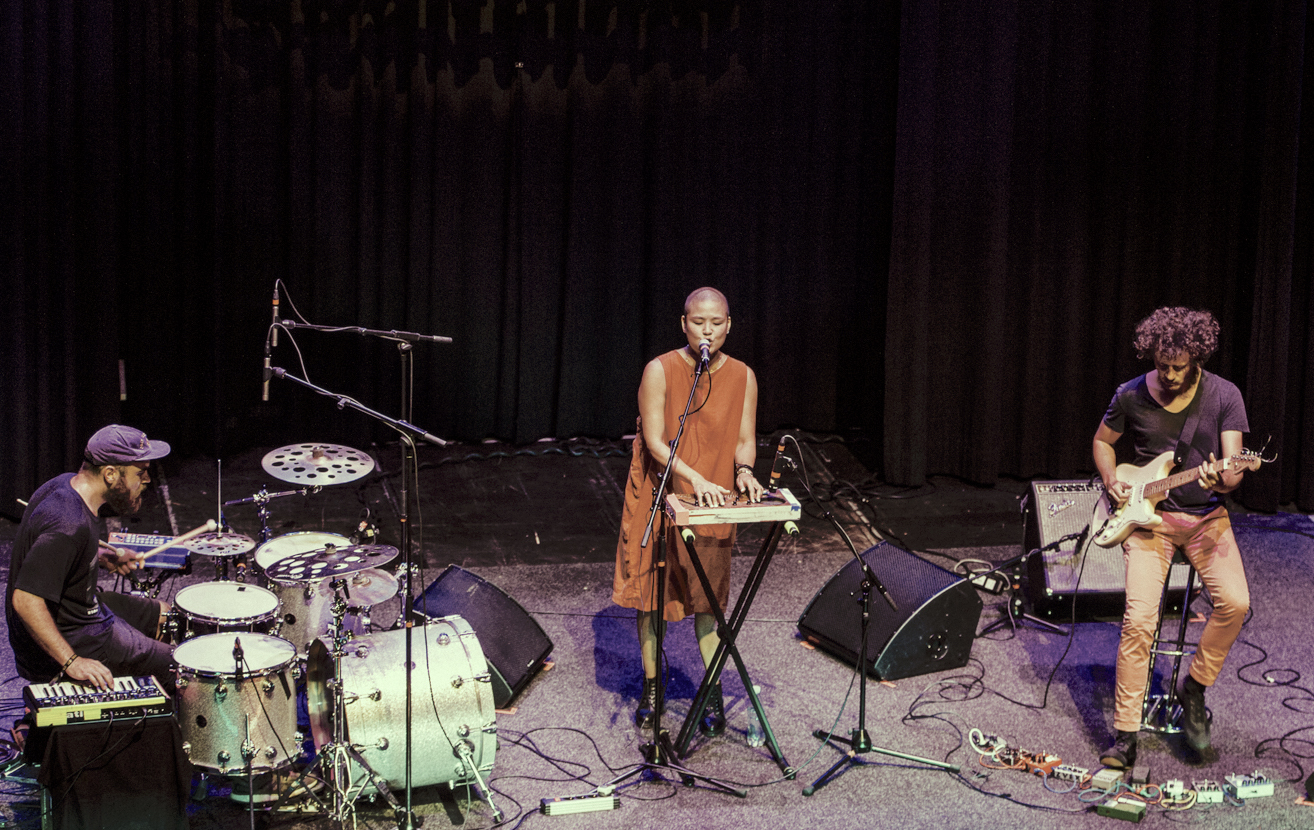 MOPCUT is:
Lukas König
Audrey Chen
and Julien Desprez

Their objective is a construct of noise and sounds that completely envelopes the listeners and has an equally as intensive impact on the ears as on the inner eye – that's how Audrey Chen, Julien Desprez, and Lukas König describe their trio project MOPCUT, which celebrated its premiere at donaufestival Krems (AUT) in 2018. Their improvisation abilities transcend all genre borders. Lukas König utilises his drums, synthesizer, and voice; Julien Desprez plays electric guitar; and Audrey Chen overlays the sounds from her analogue synthesizers with ecstatic extemporised vocals.
FRIM@Rönnells #3 Henrik Olsson+Aviva Endean
doors 18.30, 1st set 19:00
This concert is part of the Sound of Stockholm festival.Two solos - Australian composer and clarinetist Aviva Endean and Swedish percussionist and composer Henrik Olsson present highly personal solo work at FRIMs 3rd visit to Stockholm treasure bookstore Rönnells Antikvariat.
Henrik Olsson:
Common Ground (2021) är ett akustiskt DJ-set för två roterande vinylspelare preparerade med bodhrán, glas, vinyl, metall, plast och borstar.
Aviva Endean:
Music from 'Moths & Stars', her new solo release on the iconic Australian label Room40. Her music dives deep into the possibilities of extended instrumental performance and electroacoustic approaches with an unmistakable solo language, including miniature speakers, pedals, pipes.
https://soundofstockholm.se
FRIM Fall Festival / FRIM på Källarbyn
27.10:
Kaze + Ikue Mori (electronics)
Susana Santos Silva & Kaja Draksler (tp / p)

28.10:
Paul Lytton, Ken Vandermark, Nate Wooley (dr / s – cl / tp)
Farida Amadou (el-b)
Kommun: Finn Loxbo (g), Lisa Ullén (p), Vilhelm Bromander (b), Ryan Packard (dr)


27.10.2022, 20:00
28.10.2022, 20:00
Källarbyn
Stora Nygatan 31, 111 27 Stockholm
dörrar: 19:30, konsert: 20:00




Consider this an extension to a fantastic week of jazz via Stockholm Jazz Festival. FRIM has put together two nights of exceptional musicians from Belgium, USA, Japan, UK, France and Sweden that are working in the worlds of free jazz, improvisation and experimental music. We are excited to partner with Källarbyn in gamla stan to co-present two evenings of intimate forward-thinking expression.
FRIM på Fylkingen #40 - Christine Abdelnour/Joachim Nordwall + Vilde&Inga
Christine Abdelnour - saxophone
Joachim Nordwall - electronics

Vilde & Inga
Vilde Sandve Alnæs - violin
Inga Margrete Aas - double bass

Fylkingen
Torkel Knutssons gata 2
Stockholm

Tickets: 100/80 kr
Doors: 19:30
Music: 20:00
Welcome to the fourth FRIM concert of the season which is also part of the Stockholm Jazz Festival! Tonight we have two really amazing duos on the program for you.
CHRISTINE ABDELNOUR/JOACHIM NORDWALL
Christine Abdelnour (b. 1978) is a Lebanese sound artist based in France. After discovering improvised music in 1997, she began a process of self-taught study and sound experimentation with alto saxophone. Abdelnour has developed a unique personal language, producing sounds that are close to those of electroacoustic music but on a purely acoustic instrument. She approaches sound as a malleable material, rich in concrete textures which combine breath, silence and countless acoustic distortions. She has developed extended techniques and complex patterns of sound production, exploring the microtonal aspects of the saxophone and its high-pitched tones. Abdelnour has toured and worked with collaborators including Ryan Kernoa, Andy Moor, Magda Mayas, Pascal Battus, Andrea Neumann, Bonnie Jones, David Stackenäs, Raymond Strid, Patrick Thormann, Sven-Åke Johansson and many more.
Joachim Nordwall (b. 1975) is based in Gothenburg, Sweden. He has a long background in the Swedish experimental music scene, starting out with recordings with the psych-drone duo Alvars Orkester as a teenager in 1988. His early interest in psychic tension created by sound is now as ever present in his music. His "Soul Music" album for Entr'acte shows his deep interest in circular rhythms, analogue synth loops and mind expanding experiments. Nordwall has also released his music on labels like Ash International and Hospital Productions. From 1999-2005 he was sweating with the avant punk rock trio Kid Commando and when that stopped he created the ritual drone rock group The Skull Defekts. Nordwall also runs iDEAL Recordings since 1998 and is collaborating with artists like Mika Vainio, Mats Gustafsson, Leif Elggren, Mark Wastell and John Duncan and he is a busy organizer of festivals and concert nights in Sweden and abroad.
In 2019, their so far only common release "A Higher State Of Body And Mind" was released on Firework Edition Records, the new one entitled "New Works" is released on the same label in 2022!
http://christineabdelnoursehnaoui.jimdo.com/
WWW.IDEALRECORDINGS.COM
VILDE&INGA
After playing together for more than a decade, describing Vilde&Inga's music as "free improvised" might be an oversimplification. Ornette Coleman said "what's exciting is the memory you bring to the present". This is central to how Vilde&Inga's music is created: Always free from any pre-planned structures, yet with a dense memory-texture of shared musical explorations and moments shaping the sounding present.
By exploring nontraditional approaches to the violin and double bass, the string duo has greatly expanded their timbre palette. The wide horizons of color allow the music to develop slowly and organically. Some people hear birds, and some squeaking and brushing — others enter a ruin of classical music where they encounter a forest elf playing the blues.Vilde Sandve Alnæs and Inga Margrete Aas met during studies in Oslo in 2010. Since then they have toured regularly in Norway and internationally. In 2020 the double album How Forests Think was released on SOFA. The album was made in collaboration with the French sound technician and artist Benjamin Maumus and consists of improvisations and compositions recorded in four very different locations, both outside and inside, in the Oslo area. Their first album, Makrofauna, was released on ECM in 2014, and Silfr on the Norwegian label SOFA in 2017.
For more information on live dates and projects, please visit
www.vildeinga.com.
https://youtu.be/GnjpjJ0_okM
https://sofamusic.bandcamp.com/album/how-forests-think
Kontakt
If you want to be in the calendar, please write to:
frimcalendar@gmail.com


booking requests & general enquiries:


frim@frim-stockholm.se